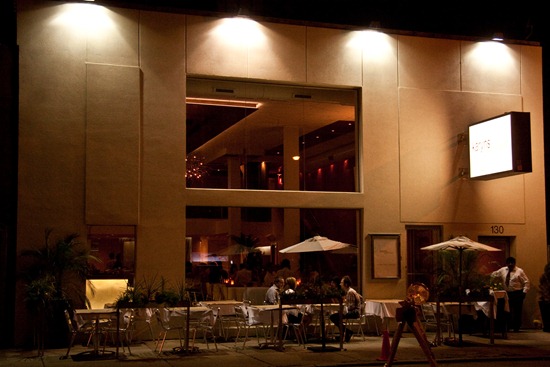 I was at dinner a couple of days ago with some friends when, apparently, there was some food blogger event or meetup happening the same time in the restaurant's upstairs room.
As the bloggers walked into the restaurant, some stopped to take pictures. Myself, my girlfriend and several friends were in one of the pictures. (It's the one above; if you click through, we're in the picture at the top of the post.)
Don't get me wrong: I am not mad that I'm in the picture. We saw this particular blogger kneeling down to take her picture, and based on her angle, it was clear that we would be in the picture. However, the blogger never approached us and asked if we would mind.
For bloggers, there are several reasons why they should approach people who may appear in their photos:
It's a courtesy extended by many professional journalists and members of the media. (NOTE: I'm not trying to spark a journalist vs. blogger debate.) Not all professional news photographers ask permission of their subjects to take candid photos. In fact, since we were in public, we're fair game. Still, blogger photogs may want check and see if it's OK to use a person in their photo, even if you can't see their face clearly. (Here's a good read on the history of photojournalism ethics.) This leads me to my next point…
It's a marketing opportunity. Let's say I were asked if I minded being in the blogger's photo. The conversation might've gone like this:
________________

Blogger: Hey — I'm taking a quick photo of the restaurant for my blog; do you mind? You'll be in it, but you'll be totally small and unrecognizable, and your face won't be in it.
Me: Maybe. What's the blog for?
Blogger: Oh, I run a food blog called "Oh She Glows"; there's a food blogger meetup going on tonight, and I'm documenting it.
Me: That's cool;  I'd love to check it out later! Go ahead and take the picture. It's also cool that this restaurant is doing blogger outreach; is it on Facebook and Twitter as well?
__________________________

…or something like that. (Not as cheesy, of course.) This could have been a marketing opportunity for the blogger; chances are they would have drawn in a few new readers. (This particular blog is about healthy food and exercise; I'm looking to learn more about these things, which is one of the reasons I was dining at that restaurant.) In addition, she could have generated more buzz for the restaurant, which I now know is  active within the social media space.

It's just the courteous thing to do. Ya know?
What do you think? If you're taking pictures for your blog — or for an article — do you ask the subject's permission? Do you use it as an opportunity to tell others about your blog? Please leave your thoughts as comments below!
36 comments August 16th, 2010